Happy Thursday to you! I'm coming at you on the early this week with a double whammy of a post; a delicious breakfast recipe and my weekly Friday Five. I got really over-excited to share this recipe, and simply couldn't wait for tomorrow; I hope you don't mind! I'm the type of person who saves the best for last (I always eat the muffin bottom first), so keep on reading to get the recipe!
1. Food favourite: Cashew Butter
I go through nut butter phases. Â Whenever I make a batch of Maple Cinnamon Almond Butter, it's exclusively slathered on everything. I'm also a big fan of classic all-natural peanut butter, MaraNatha almond butter, and Sunflower butter (I buy mine at Bulk Barn). I like to cycle through these varieties, never buying the same kind twice in a row. I broke my rule this week and loaded up again on cashew butter at Bulk Barn. I would advise that you do the same if you have the chance; I have a few delicious recipes featuring this gem that I'll be sharing soon!
2. Catastrophe Cosmetic Fresh Face Mask from Lush
Did you know that if you bring back five empty black pots to Lush, you get a Fresh Face Mask for free? It's written blatantly on their packaging, but if you didn't know before, you do now!

I recently 'cashed in' my pots on Catastrophe Cosmetic; it features blueberries, chamomile, and calamine lotion and is recommended for sensitive skin. My face is loving it!
3. Favourite summer treat: Augie's Gourmet Ice Pops
Being a food blog, I guess it's not so redundant to have two food-related favourites. Â I first tried these ice pops last summer at a Farmer's Market, and I have been dreaming of them ever since! I convinced my pal to make a trip downtown with me to get one; it was so worth it! Augie's uses seasonal, local produce and natural sweeteners to make their pops; we enjoyed the Strawberry Basil Lemonade flavour. There's something extremely nostalgic about eating a popsicle and trying not to let it drip all over. Good thing we got napkins!
4. Favourite news article: Yoga-Related Scientific Studies Increasing at Historical Rate
In case you didn't already know, I'm a bit of a science nerd. Randomized controlled trials excite me, and double-blinding makes my heart sing. Seeing more news on the uprising of scientific proof regarding yoga's awesomeness is therefore enough to make it on my Friday Five two weeks in a row. It also gives me hope that one day I'll be able to tie yoga into my future career in nursing; aum-some!
5. Favourite picture
Because cat pictures make everything better.
—
And now without further ado, the aforementioned recipe. This one is based off my usual overnight oats recipe, but inspired by a smoothie I recently enjoyed at Fresh. Matcha is basically powdered green tea; you're consuming the whole leaf so you get all the health benefits. Antioxidant power! It can be quite pricey, but I consider it an investment in my health. I usually buy my matcha either at David's Tea, or online at Got Matcha. As for the peppermint extract, I bought mine at Bulk Barn, but I expect you can find it at any speciality or health food store.
Matcha Mint Overnight Oats
Prep time: 5 minutes Chill time: minimum 2 hours
Yield: 1 serving
Ingredients
1/3 c. rolled oats (certified gluten-free if needed)
1/2 banana, mashed
2/3 c. non-dairy milk of choice (almond milk, hemp milk, soy milk)
1 tbsp. non-GMO chia seeds
1/2 tsp. vanilla extract -OR- 1/4 tsp. almond extract
1/4-1/2 tsp. matcha green tea powder (GotMatcha.com sells it for a great price!)
1/8 tsp. peppermint extract
optional: chopped walnuts, fresh blueberries, sliced banana
Instructions
The night before, combine oats, milk, banana, chia seeds, extracts of choice, and matcha in a bowl or jar. Give the ingredients a good stir, cover, and set in the fridge overnight.
Go to bed. Resist temptation to rise from your slumber for an early breakfast.
In the morning, remove oats from fridge and stir again. Add additional sweetener or adjust flavouring to desired taste, and add optional toppings.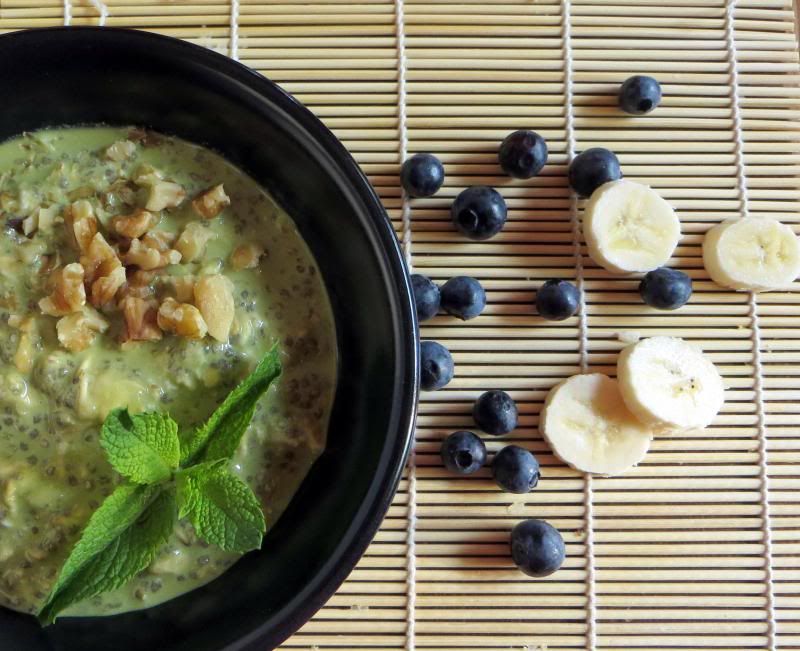 Note: If you're new to matcha, I would suggest you start with a lesser amount (1/4 tsp) and decide how you like the flavour. Matcha can be quite strong and may overwhelm some; adding some all-natural sweetener may also help to make it more palatable (chocolate chips wouldn't hurt either!).
Question of the Day: What is your favourite flavour combination?