Not-your-average Fruit Salad
I've got another salad recipe coming at all you salad lovers today! This one is inspired by Ms. Carrie who breached the idea of eating vegetables at breakfast. At first I was a bit skeptical since I prefer sweeter breakfasts, but I threw some veggies along with my usual fruit bowl anyway.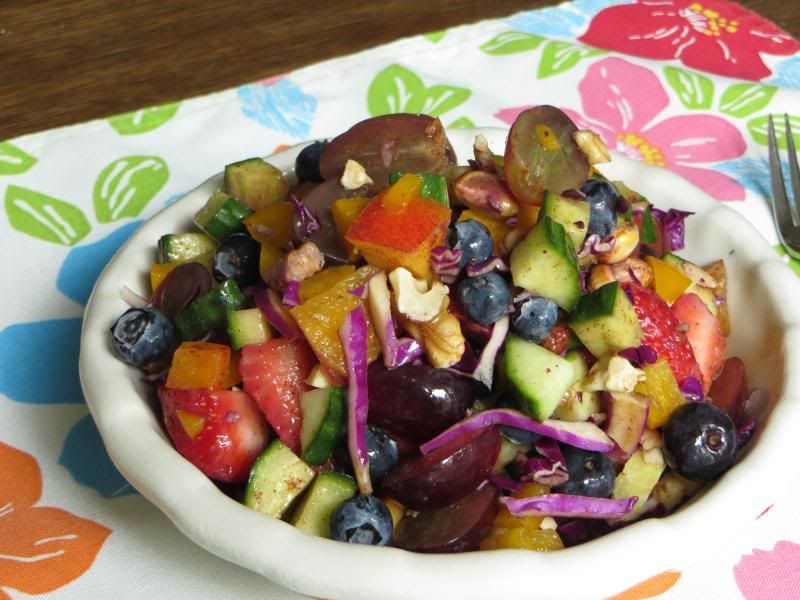 It was surprisingly good! Carrie had the idea to amp up her morning salad with some wholesome seeds; I followed suit but also added some other nutritional gems. This colourful salad has every colour of the rainbow, plus a little optional sweetness for those who need it. I found that it tasted best if allowed to sit for a few hours (or overnight) in the fridge; the fruits give off some juice and sweeten the veggies up a bit! It also keeps quite well, so you can make a big batch and enjoy it every day of the week. Hooray for getting a head start on your 7-8!
Inspired by Carrie.
Yield 2 (BIG) servings
Prep time: 30 minutes Chill time: 2 hours or overnight
Ingredients
1 c. red cabbage, finely chopped
1 c. cucumber, chopped
1 yellow bell pepper, chopped
1/2 c. blueberries
1 c. red grapes, halved
1 c. strawberries. quartered
2 tbsp. pistachio kernels
2 tbsp. walnuts, chopped
1 tsp. cinnamon
1/2 tsp. nutmeg
1 tbsp ground flax seed
1 tbsp chia seeds
optional: 1 tbsp coconut sugar
Instructions
Chop the fruits and veggies as directed and place in a large mixing bowl. Add nuts, spices, and optional sugar. Mix together and chill in an airtight container for at least 2 hours or overnight.
Before serving add chia and flax seeds and stir. Keeps for 3-5 days in the fridge.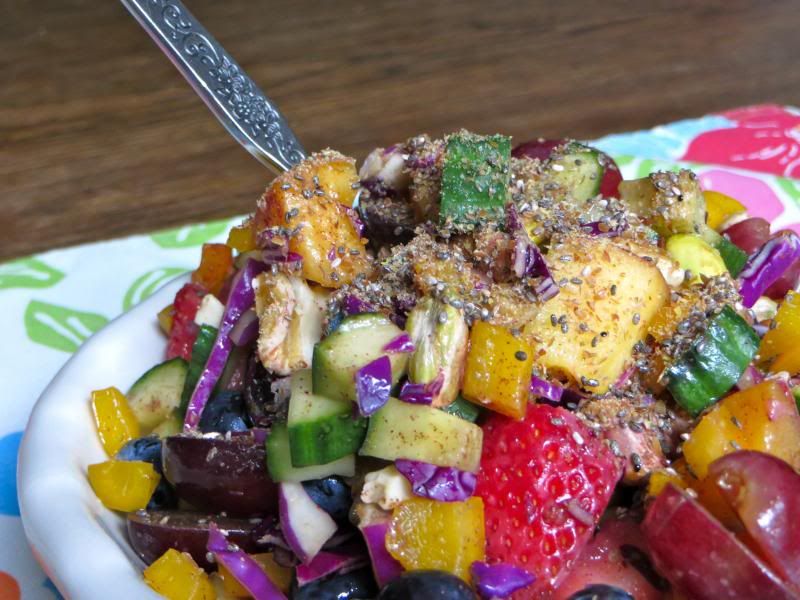 One serving of this salad boasts 3 servings of veggies, 2 servings of fruit, plus some healthy fats from the nuts and seeds! I'll warn you, this makes a BIG fiberlicious serving of salad. If you want to mix up your breakfast a bit, you could always have a smaller portion alongside something else. I had mine this morning with a handful of Blissful Buckwheat Granola Clusters; some soy yogurt would be nice on the side as a dip as well!
Do you like eating vegetables for breakfast?