Easy No-sew DIY Eco-Friendly Cutlery Case
Picture this:
You're about to dig into a delicious lunch halfway through your work/school day. Either you packed it yourself, or you picked up a bite to eat somewhere convenient. Either way, you forgot to pick up cutlery. Bummer! Your heart sinks slightly as you mourn the salad that you were so looking forward to enjoying. *lightbulb* You remember the fork you keep in your bag for occasions like these. Close call!
You dig around the bottom of the bag for your saviour fork. You pull out a broken pen, a few LARABAR wrappers, and eventually, your fork! As you are about to dig in, you realize that the fork you had so much faith in, is covered in dirt and other unmentionables. Appetite, gone.
Has this ever happened to you? I always try to be prepared when out and about, but I occasionally forget to bring my eating utensils. Packing a knife, fork, and spoon can also be quite noisy; with all that clanging around you might be confused for a parade coming down the street. This easy DIY project solves all these problems and more! In addition to cutlery, you could also store your reusable glass straws, or use it as a pencil case. The possibilities are endless!
Below are the step-by-step instructions explaining how to make your very own Eco-friendly carrying case, using materials you already have lying around your house (like one of your many, many reusable shopping totes). It's compact and will surely fit into your purse or lunchbox; make a few and bring them along for picnics! Using this case also helps the environment by not wasting excess plastic cutlery. It's a super DIY!
Easy No-sew DIY Eco-Friendly Cutlery Case
Step One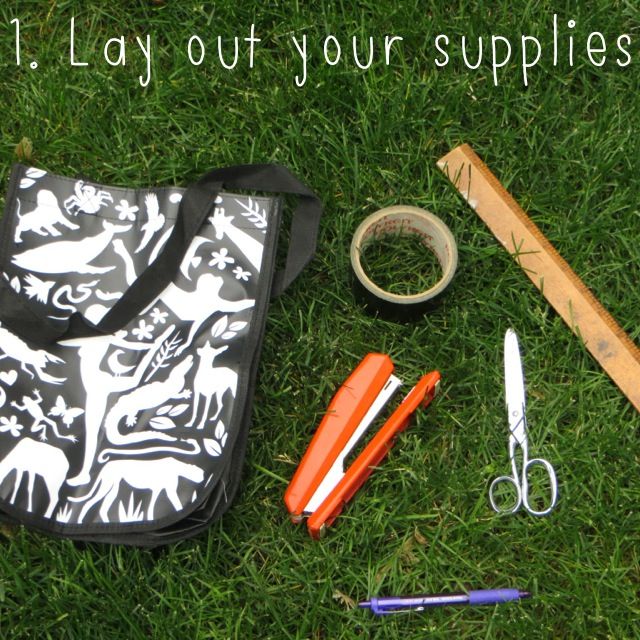 You will need the following supplies for your cutlery case:
small reusable tote bag (I used an old lululemon bag, but any bag of this size will work!)
duct tape (ideally the same colour as the bottom of the bag, but the choice is yours!)
stapler (regular sized, with staples!)
scissors (sharp- watch out for your fingers!)
pen or pencil
ruler (and basic math skills; get a price of paper or a calculator too if you have a hard time with division :P)
whatever you are storing inside your case (fork/knife/spoon, glass straws, pencils and pens, your crochet needle collection, etc.)
Step Two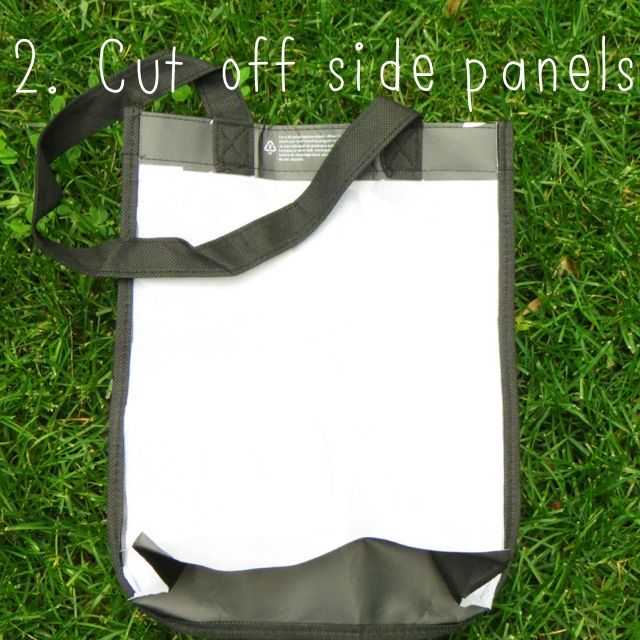 Grab the bag and scissors. Carefully cut off three sides of the bag, leaving one large panel and the bag's bottom still attached as shown. Cut as closely to the bag's seams as possible.
Step Three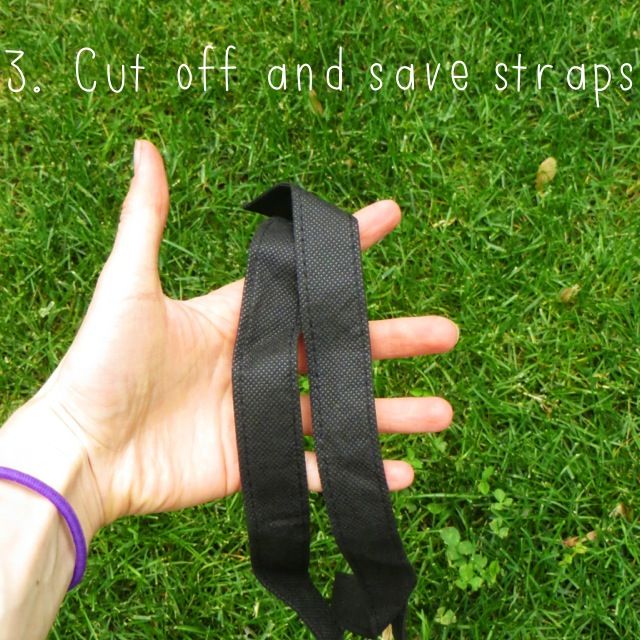 Cut off the handles from the bag and put these to the side; we will be using them soon!
Step Four

Turn the panel you cut upside-down so that what used to be the bottom is now the top. Grab whatever you will be storing in the case and place it underneath the flap. Fold up whatever material remains at the bottom to form a pocket (leave a bit of extra space at the top though; even spoons need breathing room). Make a mark with your pen/pencil on both sides of the pocket. Remove the items for now.
Step Five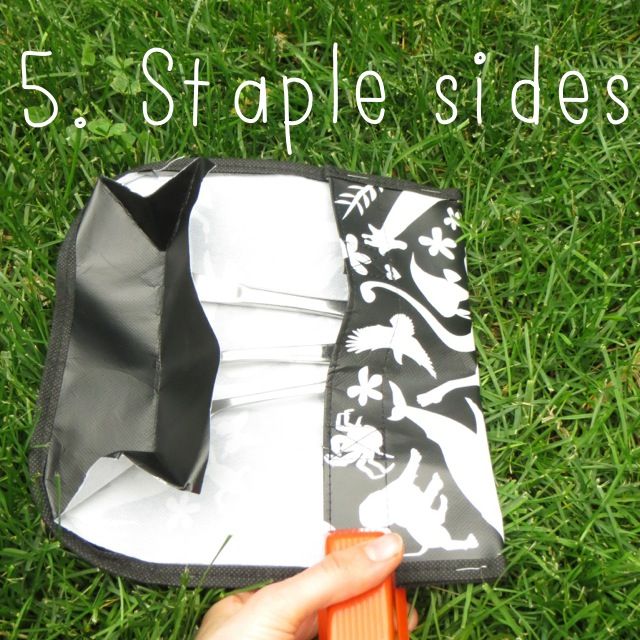 Grab your stapler and place a few staples on each side of the pocket you just created (two or three should do it).
Step Six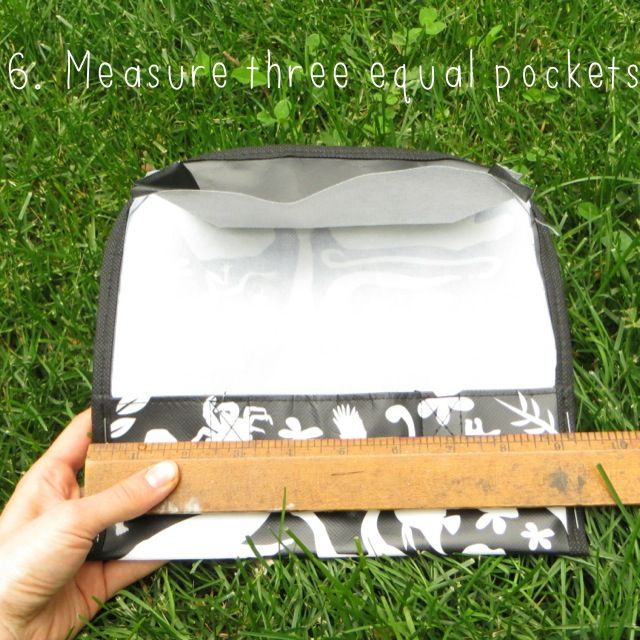 Now we will be using our ruler, as well as our math skills, to create three even pockets for our cutlery (or other things) to live in. Measure the width of your bag and divide that number by three. Place two markings with your pen or pencil to mark these pockets.
Step Seven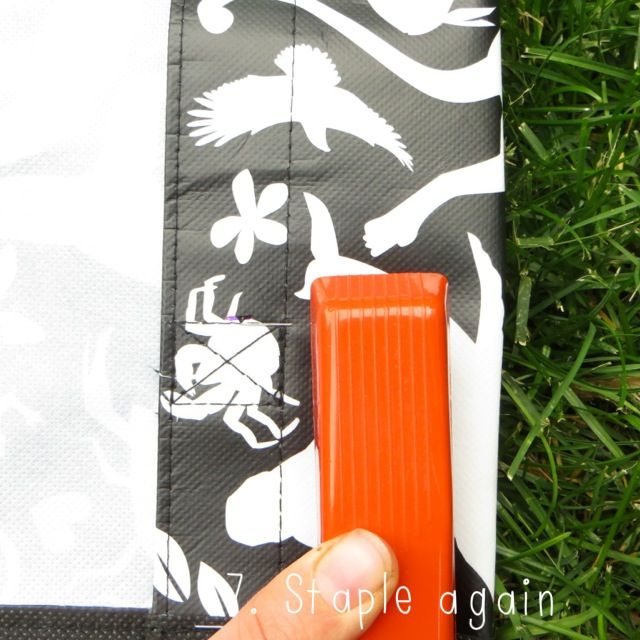 Grab your stapler and staple in line with the markings you just made (again, two or three should do it). Ta-dah, pockets!!
Step Eight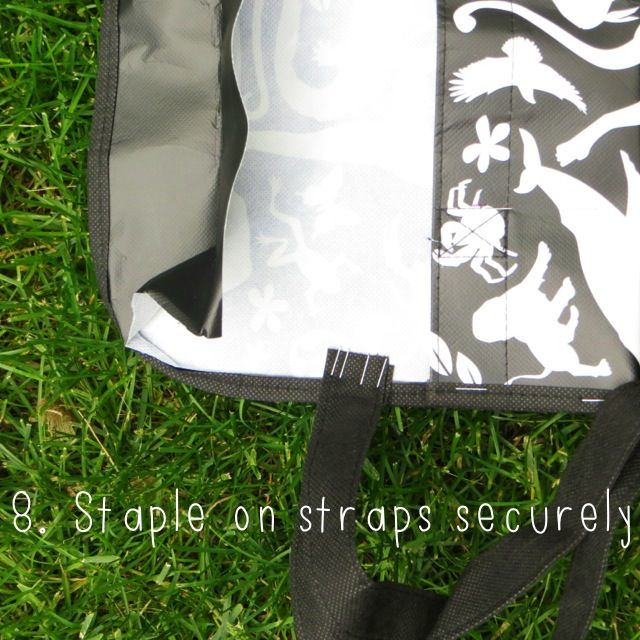 Take your ruler and measure the length of the bag; divide this number by two and place a marking on one side of the panel; this is where our straps will be secured. Take both the handles you saved and staple them a few times (4 or 5) to the place you just marked.
Step Nine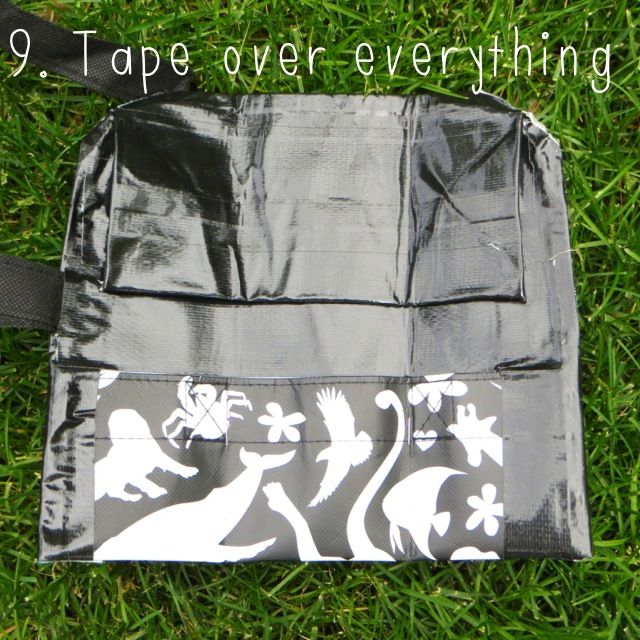 Now comes the hardest part; taping. Tape around all the edges of the bag to hide the seams and staples. Do a good job taping around the straps, as you want them to be secure. Cover the top flap with tape, as well as the inside of the case if you wish. If you choose to, you can also cover the inside pocket (I left it bare so I could see the pattern).
Step Ten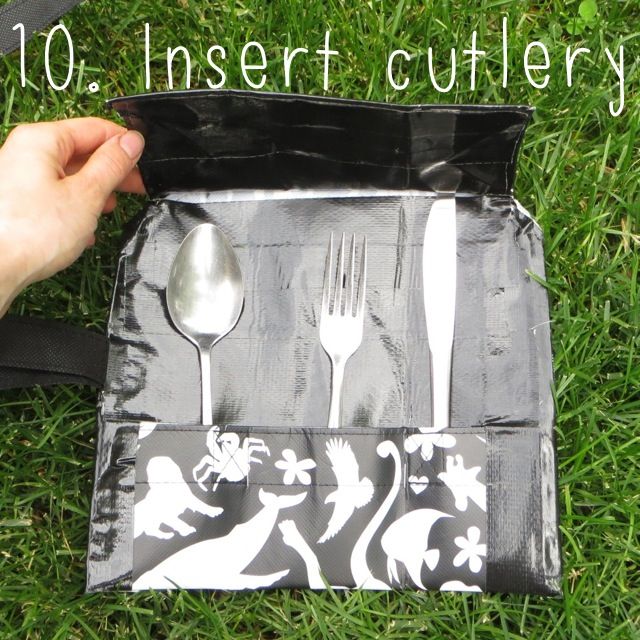 Take your items and place them in the pockets you created. Fold your case in thirds (like a brochure; the side with the straps being folded last), wrap the straps around the case, and tie with a pretty bow. At this point, you can trim the straps if they are too long.
Step Eleven

Revel in your craftiness and get excited to use your case!
See, wasn't that fun and easy? It's a great way to put your falling-apart reusable shopping bags to use, too! I hope you enjoyed this DIY and I would love any feedback or comments you have. Please leave them below!!
Question of the day: Do you like DIYs/crafts? What was your favourite thing to make as a kid?
I was a friendship bracelet queen! I still do this day enjoy making handmade gifts for friends and family.