Creamy Vegan Blueberry-Cashew Popsicles + the Friday Five
What a week; mine was great, filled with work and play. I am sending you off into your well deserved weekend with the Friday Five as well as a quick and easy dessert recipe! I told you that cashew butter your purchased would come in handy!
Are you sensing a pattern here? This week I got to try another vegan restaurant for the first time. The Naked Spout is Burlington's only vegan and gluten-free restaurant and I am glad I made the trek out to the suburbs to try it out! My friend Kayla and I headed to 'The Sprout' (as it's lovingly called) for dinner. Our server, Andrew (who is a friend of ours) made great recommendations leading to a very enjoyable meal! I think our dining neighbours may have been bothered by our noises while eating the cheesecake we ordered for dessert; it was that good! Keep you eye out for a full review!
2. Favourite read: Plate to Pixel by Helene Dujardin
After hearing everyone gush about this book, I finally took the plunge and bought my own copy. I'm about halfway through and my interest in food blogging and photography has only further been stimulated! I hope that in the next few weeks you notice a difference in the photos posted in this blog; please leave a comment with any suggestions, tips, or tricks you have!
This week I took a much-anticipated trip to the Toronto Islands. I rode my bike down to the ferry docks and enjoyed a day relaxing in the sunshine. If you're looking fun in Toronto, it is on my list of must-do things in the city! I took a bunch of pictures, but I'll let them (mostly) speak for themselves

4. Favourite movie: The Heat
Get ready to laugh your f*ing head off. Sorry I don't normally cuss, but the sheer amount of f-bombs dropped in this movie has desensitized me. The Heat stars Sandra Bullock and Melissa McCarthy as strong-willed and independent law enforcement officials who must work to put their differences aside to bust a drug lord. There is really something for every movie fan in this film; car chases, kitty cats, a sentimental ending, and tons and tons of laughs.
On a side note, does anyone else have a hard time adjusting to Melissa McCarthy in her more recent acting roles? I'll always remember her as loveable Sookie St. James!
5. Favourite body/beauty product: Sunscreen
I probably sound like a PSA/nurse when I say this but, put on your sunscreen people! I always do my best to remember to apply sunscreen before sun exposure, as well as throughout the day. This info graphic does a great job at reinforcing how much we actually have to be applying for protection. I know we all want that summer glow, but consider what you're risking if you don't protect yourself!
Recipe time!
Have you ever made banana soft serve? Dreena seems to be one of the first to experiment with processing frozen bananas and other goodies to create a treat that tastes a lot like ice cream! It's a vegan's (or anyone's) dream, and so simple to make with the right equipment.
I recently bought a Popsicle mould at IKEA for a very reasonable $1.99. I was itching to use it so when whipping up some banana soft serve one night, I experimented by adding some to the moulds and freezing them. They couldn't have turned out better!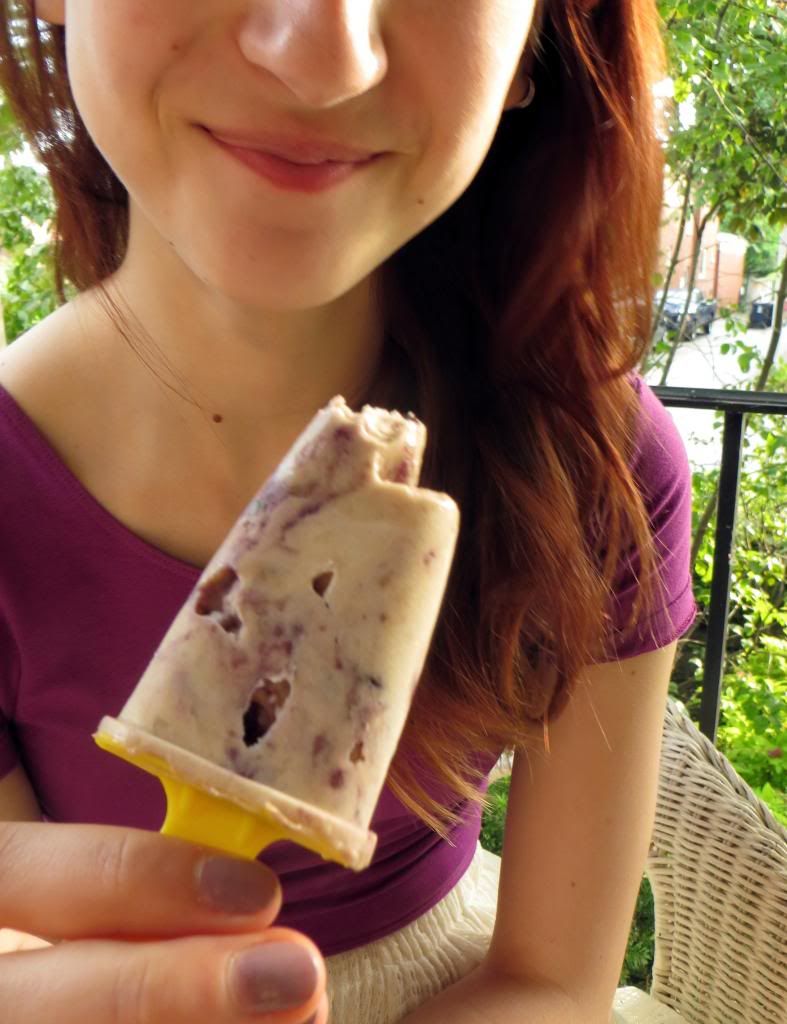 See, Maria agrees.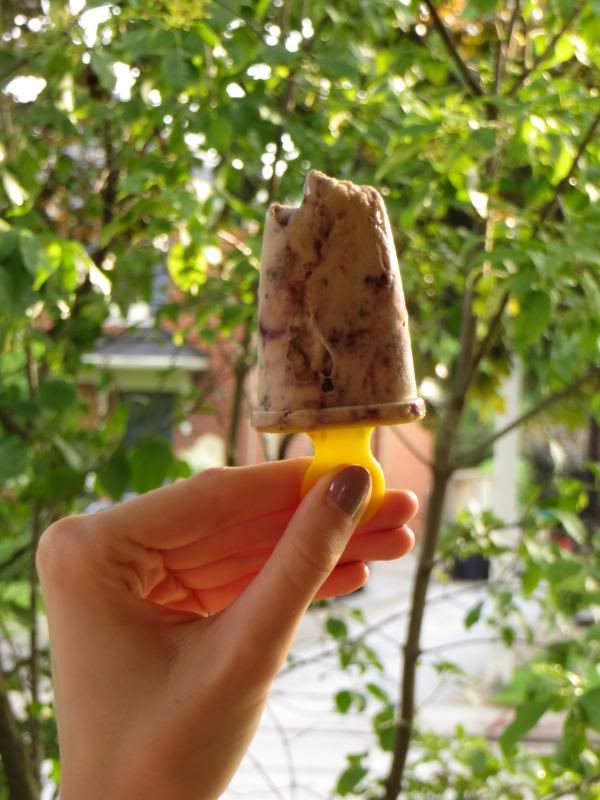 These Popsicles are extra creamy from the cashew butter. I also stirred in some blueberry jam I had on hand, but you could use any jam or fresh fruit that suits you! This recipe yields enough for the moulds mentioned above, so keep in mind you may have to adjust ingredient amounts if your mould is a different size! Don't be afraid to make too much; it tastes great eaten with a spoon as well!
Creamy Blueberry Cashew Popsicles
Yield: 6 popsicles
Prep time: 5 minutes Freeze time: 8 hours
Ingredients
2 sliced and frozen bananas
2 tbsp. cashew butter
2 tbsp blueberry jam (or jam of choice)
2 tbsp vegan chocolate chips
Instructions
Place frozen bananas in food processor. Process until no chunks remain, scraping down the sides of the bowl as necessary until desired consistency is achieved.
Stir in jam and chocolate chips.
Transfer to popsicle moulds and place in freezer for at least 8 hours.
To remove, run mould under warm water and gently pull the popsicle out of the mould.
I hope you all have a fabulous and safe weekend!
Question of the Day: What events and eats do you have planned for this weekend?