Fresh: Restaurant review
Sometimes you wanna go where everybody knows your name…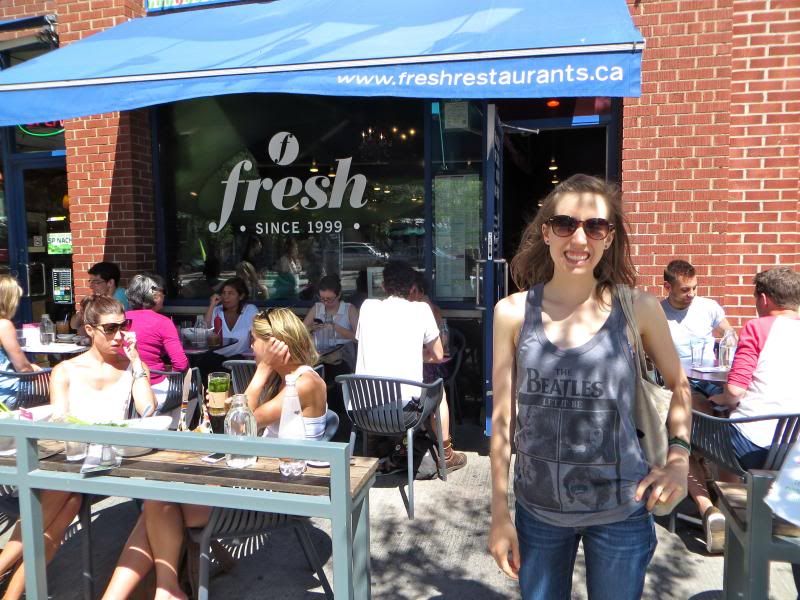 Alright, maybe not quite, but I've frequented this vegetarian restaurant enough times that maybe we should be on a first name basis! Fresh reigns king (or queen?) in the Toronto vegetarian scene. Around since 1999, they have been concocting delicious vegetarian (and mostly vegan) dishes and drinks for the masses. Their three locations are always bustling at any time of day, and they are in the process of opening a fourth Toronto location! So without further ado, here's the review (I'm a poet :P)!
Facilities
As I mentioned, there are currently three locations in Toronto; the menu is very much the same in all three, serving lunch, dinner, and brunch on the weekends. Both the Crawford and Spadina locations have patios in addition to indoor seating, for those who like to eat outdoors in the sunshine. Despite the modest size of the restaurant, they can pack quite a crowd; make note that tables are very close together and you may be required watch your elbows for the sake of your dining neighbours. The decor and colours in all three locations are fun and vibrant; check out the chandeliers!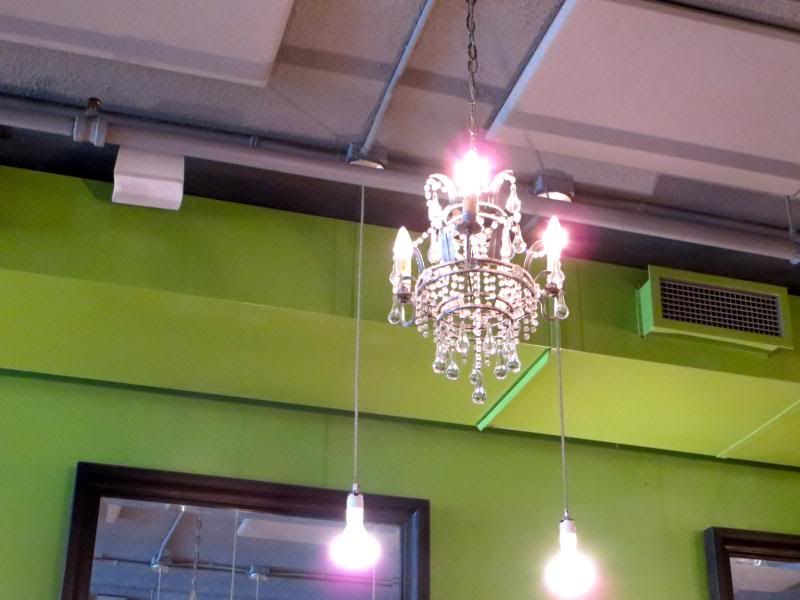 Score: 4/5
Service
I have had positive customer service experience at Fresh (exactly) 94.7% of the time. The waiters and waitresses are always willing to clarify anything confusing on the menu, or make adjustments to your meal as desired. For those who like to be in-and-out in a jiffy, note that Fresh is usually VERY busy, so be prepared to wait a little bit longer for your drinks/food/bill (more quality time with your dining buddies). If you are in a rush, however, here's a tip for you: call in advance to place an order for pick up! Bonus tip number two: present a Live Green Toronto card to get 15% off your takeout order.
Score: 4/5
Food
Here's the part we all came for; the food! Fresh has many offerings for every type of eater. Their veggie burgers appeal to veg*ns and omnivores alike (proof: my very omni brother) and their bowls are a masterpiece made of vegetation. You can view their full menu online, but here is a taste of what my pal Shannon and I dug into on our last visit: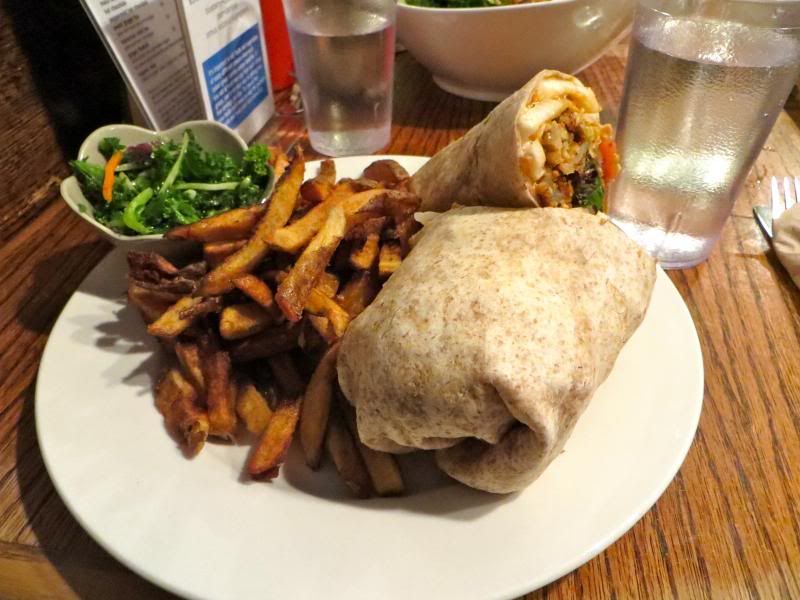 I chose the BBQ burger (vegan BBQ sauce, quinoa onion rings, garlic vegan mayo, cabbage, lettuce, tomato, and banana chiles) in a wrap instead of on a bun. The burger comes with a small serving of kale slaw, and I upgraded with a side of fries. The flavours and textures were very good and it was more than enough for one hungry vegan!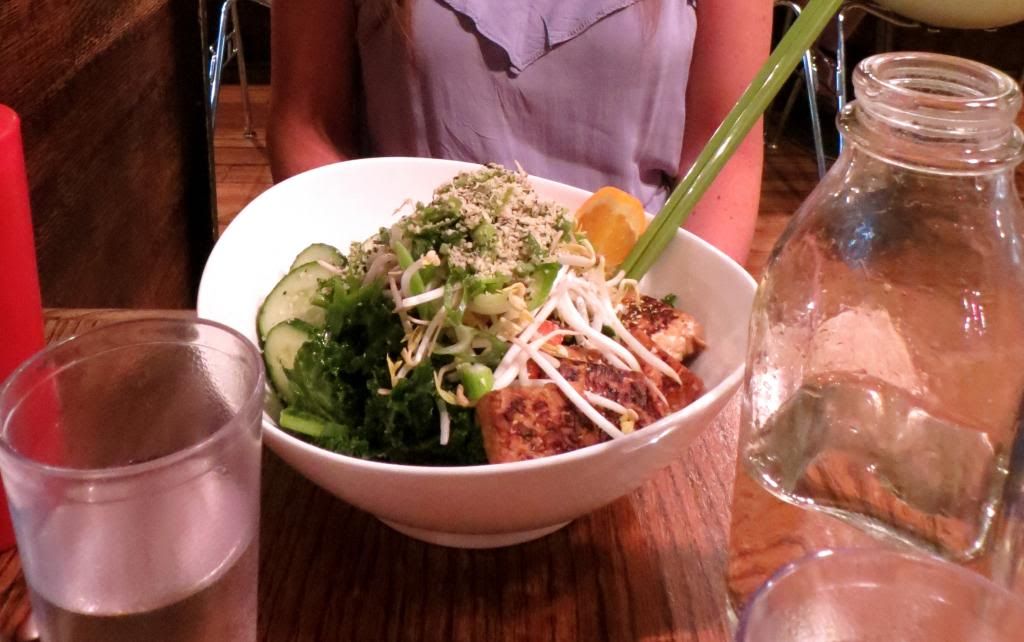 Shannon opted for the monthly special: All Hail Kale salad. Her HUGE salad consisted of marinated kale, tempeh nuggets, cucumber, orange slices, hemp seeds, red pepper, green onion, cilantro, and a peanut lime dressing. She finished the whole thing; champ!
Fresh also has great drink (hot and cold, alcohol, smoothies and juices available for eat-in or take-out) and dessert menus. For diners who adhere to a gluten-free diet, Fresh has you covered there as well.
Since I am a Fresh 'frequent flier', I also soundly recommend their soup, salad, and cornbread combo, california classic salad, and beach bowls as some of my favourites.
Score: 5/5
Quality/Value
On their website, Fresh makes it very clear that their food is indeed made fresh. They explicitly list on their website everything that is guaranteed to be organic. While not cheap, Fresh definitely gives their customers good value when factoring in the cost of the ingredients and labour, and the portion sizes you get. If you're looking for a deal make a trip on a weekday between 2:30 and 5:30 for their ReFresh Yourself deal. For $6.85 (+tax) you get any 16 oz. beverage plus a dessert item (made by Toronto company Sweets from the Earth)!
Score: 4/5
Total Score: 17/20

Disclaimer: This blog is a personal blog written and edited by me. I have not been compensated to provide opinion on products, services, websites and various other topics. This is not a sponsored post, nor have I been paid to review this restaurant. The opinions expressed here my own and are not influenced by any endorsement. The views and opinions expressed on this blog are purely my own. This blog does not contain any content which might present a conflict of interest.
Thanks so much for reading! Leave me a comment, follow me on, Facebook, Twitter, Pinterest, Google+, and Instagram; I'd love to connect with you!