Gardein Chick'n Strips
I think this may become my favourite daily vegan MoFo theme this month. The purpose of Work With it Wednesdays is to try a new or disliked vegan food item. I have been brain-storming a few new things to try; I'm really excited for some of them (especially next weeks post!) but others I am feeling a bit ambivalent towards.
Some of my primary reasons for going vegan are my concern for the welfare of animals, and the reduction of suffering. When I first began transitioning to veganism, eating animal products began to feel very strange. There was something about cutting into a piece of flesh that just didn't sit well with me. For these reasons, trying this week's new food was a bit of a challenge for me.
I have been meaning to try a 'faux-meat' for a while now, mainly out of curiosity. Since becoming vegan I do not yearn for meat, but I appreciate what companies are doing for making eating plant-based meals easy and accessible for everyone. When I saw that Gardein Chick'n Strips were on sale this week at Metro, I took it as a sign from the grocery gods telling me to finally try them.
Nutritional Info and Ingredients
gardein: water, soy protein isolate*, vital wheat gluten*, organic ancient grain flour (kamut®, amaranth, millet, quinoa), natural flavors (from plant sources), expeller pressed/canola oil, yeast extract, organic cane sugar, sea salt, onion powder, garlic powder, pea protein, carrot fiber, beetroot fiber, extractives of paprika and turmeric.rub: dehydrated vegetables (red bell pepper, garlic, onions), spices, organic cane sugar, salt. *non-genetically engineered soy and wheat.
Source: Gardein
At first glance, I was pretty impressed by the nutritional facts and product information. Gardein's products use non-GMO soy and wheat and are certified dairy-free and vegan. The chick'n strips specifically boast 19 grams of plant protein in an 100 calorie serving (more than a third of my RDA). I also liked how they are relatively low in sodium, and provide a good source of iron and vitamin B12. Still, I was a still a bit weary to try them, since wheat and gluten have a tendency to upset my stomach if I eat them too frequently.
Preparation and Serving
Since I haven't had meat in so long, I was a bit at a loss of how to incorporate the Chick'n strips into my lunch. I stared at the contents of my fridge for a while trying to figure out how to best enjoy the faux-meat. I chuckled to myself when I decided to 'disguise' the strips in a big green salad with my favourite Maple-Tahini dressing; isn't the challenge usually how to disguise the veggies??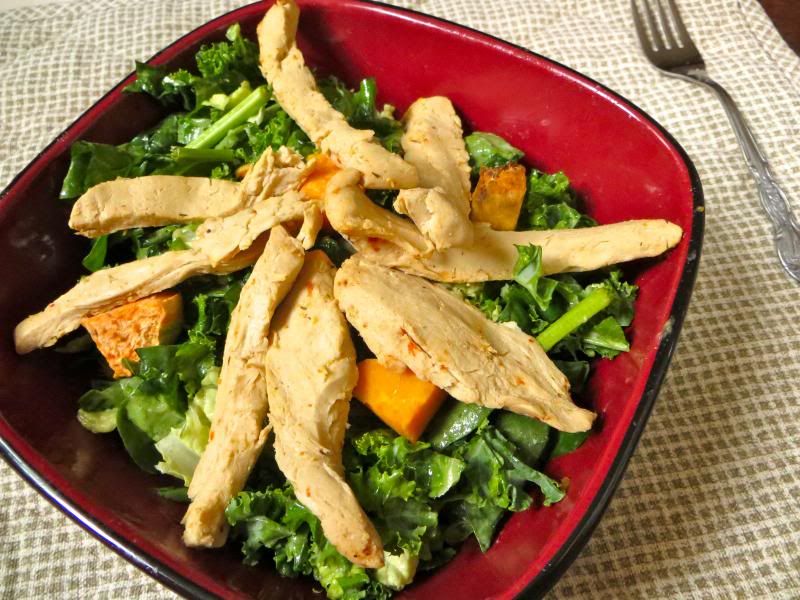 I followed the directions on the package and warmed the strips in a frying pan for a few minutes before artistically arranging them atop my salad; chick'n sunburst!
Impressions
The old adage does not apply here; in my opinion the Chick'n strips did not taste like chicken. The texture was gummier than I remember chicken being, though it certainly looked like meat! I'll admit that I did not enjoy the first bite, but I persevered in finishing the entire serving. As I got used to the taste and texture, it really wasn't so bad. Honestly, the strips are quite flavourless eating them on their own, despite being seasoned with various dehydrated vegetables and spices. If I were to try them again, I would probably 'sauce them up' a bit. I was also impressed by how well the strips satisfied my appetite; 4 hours later and I was still not hungry!
Conclusion
I give the Chick'n strips one thumb up and one thumb down. I really like what companies like Gardein are doing for making veg*n accessible and realistic. People who enjoying eating animal flesh are likely to have a much more difficult time being satisfied with beans and lentils as a source of protein, so this product is a good compromise. That being said I don't have a meat craving to satisfy, and I really do enjoy eating piles of kale, nuts, seeds, and other plant goodies. I probably won't buy 'faux-meat' again, but I learned that I'm not opposed to eating it. As for the rest of the package of strips; I have plans to sneak it on my brothers' plates when I have them for dinner (shh, don't tell). I'm interested to see what they think!

Question of the Day: What do you think of 'faux-meats'? What else should I try this month as part of Work With it Wednesdays?
Disclaimer: This blog is a personal blog written and edited by me. I have not been compensated to provide opinion on products, services, websites and various other topics. This is not a sponsored post, nor have I been paid to review this product. The opinions expressed here my own and are not influenced by any endorsement. The views and opinions expressed on this blog are purely my own. This blog does not contain any content which might present a conflict of interest.
Thanks so much for reading! Leave me a comment, or follow me on, Facebook, Twitter, Pinterest, Google+, and Instagram; I'd love to connect with you!