Lemon Blueberry Apple Crumble: Vegan, Gluten-free, Nut-free
Today is an extra special Tuesday; a dear friend of mine is celebrating her 22nd birthday! Teryl and I go back a few good years. For orientation week at my school, we were placed in small groups; Teryl just so happened to have ended up with me as a froshling. We had a lot of (messy) fun that week:
Ah memories! Over the years, school has easily gotten in the way of keeping up with friends. Last year, however, Teryl and I devised a plan to stay up-to-date with each other's lives by hosting each other for warm drinks and dessert! When planning out first get-together we discovered we had a few things to accommodate for:
I like tea; Teryl likes coffee
I eat a vegan diet, and try to be gluten and wheat-free as much as possible
Teryl has a long (sad) list of allergies
Apple crisp it was! If I remember correctly, we ate the whole pan without stopping to breathe or blink. Our first get-together was so fun that we essentially did the same thing the second time, except that Teryl outdid me by baking both apple and blueberry crisps! Do you even need to ask whether or not we polished it all off?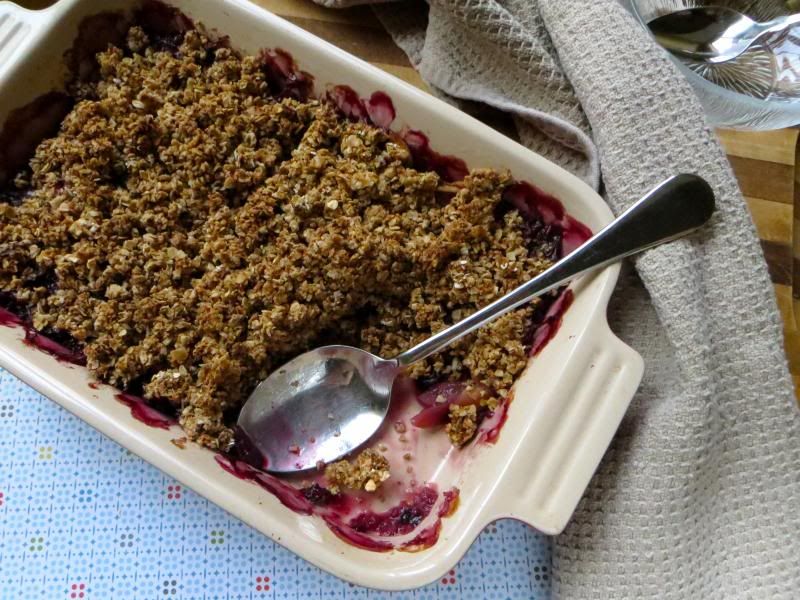 In honour of Teryl and her birthday, I married apples, blueberries, and lemon to make a delicious fall treat.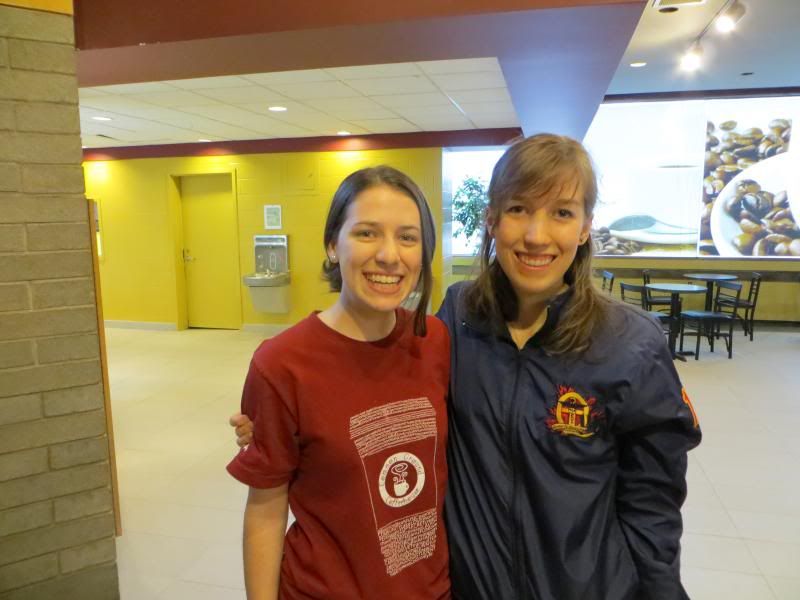 Happy Birthday Teryl! I hope this year brings you amazing adventures and nothing but good!
Lemon Blueberry Apple Crumble
Yield: 3-4 servings (or 2 Teryl and Suzanne sized servings)
Prep time: 15 minutes
Bake time: 45 minutes
Ingredients
Filling
1 tbsp. coconut oil or other solid oil (eg. vegan margarine)
5 c. sliced apples
1 c. fresh blueberries
3 tbsp lemon juice
zest from 1/2 a lemon
2 tbsp unrefined granulated sugar (eg. organic cane sugar, coconut sugar, sucanat)
2 tsp cornstarch
Topping
1 c. oatmeal
1/2 c. oat flour (tip: grind oats in a food processor) or flour of choice
3 tbsp. coconut oil or other solid oil (eg. vegan margarine)
3 tbsp. non-dairy milk
2 tbsp unrefined granulated sugar (eg. organic cane sugar, coconut sugar, sucanat)
1/2 tsp baking powder
1 tsp. cinnamon
1 tsp. vanilla extract
Instructions
Preheat oven to 375 degrees and grease a small shallow baking dish (10×7″) with coconut oil.
In a small bowl combine sliced apples, blueberries, lemon juice, lemon zest, cornstarch, and sugar. Set aside while you prepare the topping.
In another small bowl mix together the oats, flour, sugar, cinnamon, and baking powder.
Add coconut oil (it should be semi-soild; microwave to melt if required), non-dairy milk, and vanilla. Mix to achieve a crumbly texture.
Spread the fruit mixture evenly in the pan, followed by the crumble topping.
Bake for 45-50 minutes and cool before eating.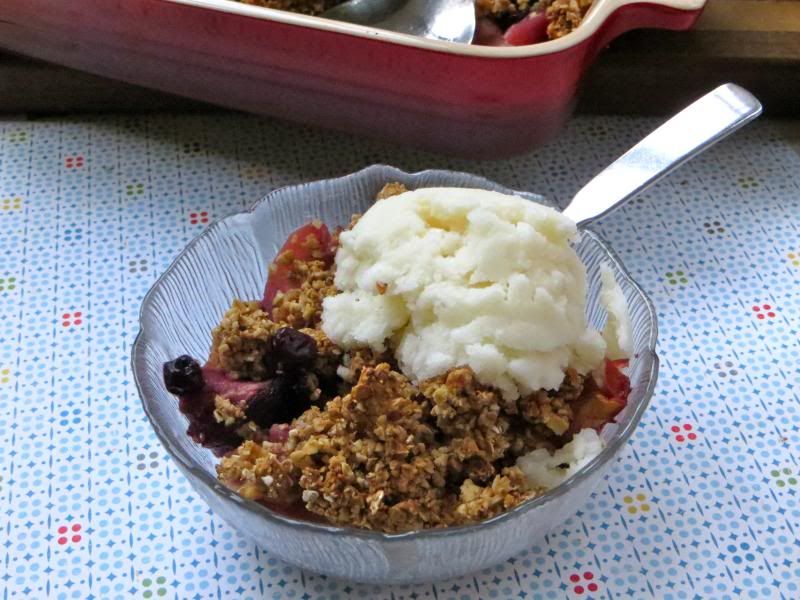 Serve with vanilla ice cream (optional, but please do it!) I used Katie's recipe.
I've also linked up to Treat Yourself Tuesdays over at olivesnwine; check it out!
Thanks so much for reading! Leave me a comment, or follow me on, Facebook, Twitter, Pinterest, Google+, and Instagram; I'd love to connect with you!