Do you remember, the 21st night of September…
I admit I don't know the rest of the words to the song, but it sure is fitting! Aside from fall's official arrival, today marks another very important event:
This best friend a girl can have turns twenty one! Words can not describe how much I love this girl. We became friends four short years ago and have been extremely close ever since, even through being in different cities for university. She is the peanut butter to my banana, and the Elton John to my Kiki Dee. Mostly all of my favourite memories from the past few years involve Maria in some way, shape or form. We did our first solo trip (ie. without parents) to New York together, spent fun weekends at my cottage each summer, and watched every Harry Potter movie and episode of Gilmore Girls . She has also always been there for me in the not-so-fun times. She is my biggest fan and my toughest critic; I don't know where or who I would be without her.
I'm not the greatest with words, but I like to think I'm a pretty good cook, and I couldn't think of a better way to pay tribute to my best friend than to honour her with a recipe. This one is a spin-off of a dish Maria whipped up for us one night; peanut butter, tofu, soba noodles, and veggies come together to create a dish than nears nirvana. I wanted to create a dish that could be served room temperature, (ideal for brown-bagged lunches) and was veggie-full enough to qualify as a salad.
Peanut Butter Soba Noodle Bowl with Tofu
Yield: 4 servings
Prep time: 30 minutes
Cook time: 10 minutes
Ingredients
For the peanut dressing
1 tbsp. grated fresh ginger
1 tbsp. grated fresh garlic
1/3 c. natural peanut butter
2 tsp sesame oil
1/4 c. rice vinegar
1 tbsp. tamari
1 tbsp. maple syrup
For the tofu
1 package firm or extra firm tofu
1 tbsp. grated fresh garlic
2 tbsp. safflower (or other neutral) oil
2 tbsp. water
1 tbsp. tamari
a few dashes of cayenne
For the noodles
1/2 box soba noodles, gluten free if required
2-3 medium zucchinis, spirallized into noodles
Additional toppings
red pepper, green onion, avocado, or spinach, chopped
Instructions
Step 1: Ahead of time, chop tofu into bite sized pieces and place in a bowl. Coat with oil, water, garlic, tamari, and cayenne, and marinate for at least 30 minutes.
Step 2: Whisk together ingredients for the peanut dressing. Set aside.
Step 3: Preheat a non-stick frying pan, and bring a large pot of water to boil.
Step 4: Place tofu and marinade in frying pan, and fry to brown on all sides. When water comes to a boil, cook the soba noodles according to the directions. Meanwhile, spirallize the zucchini into noodles and place in a large colander.
Step 5: When tofu and noodles are done, turn off the heat. Drain the soba noodles into the colander containing the zucchini noodles and rinse with cold water.
Step 6: Transfer the noodles to a large bowl and mix in desired amount of dressing to coat noodles.
Step 7: Serve noodles with desired toppings and enjoy!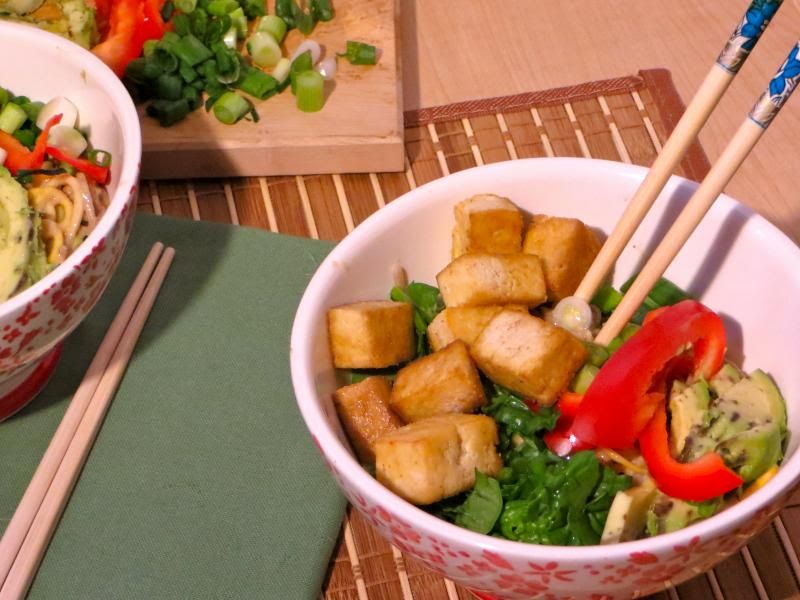 This dish is somewhat labour intensive, but I promise that it is worth it! Feel free to use any ratio of noodles to dressing you prefer, as well as switching up the veggies to your liking. It is great served at room temperature, and makes for a veggie-packed power lunch! If you are planning to bring it for lunch, however, I would store the components separate and assemble the day of; veggie noodles give off water that dilute the dressing! To spiralize the zucchini noodles, I used my new spiralizer, though a simple julienne peeler would work too.
Thanks so much for reading! Leave me a comment, or follow me on, Facebook, Twitter, Pinterest, Google+, and Instagram; I'd love to connect with you!