I was at a loss this week for what 'new-to-me' item to try. I scoured the farmer's market for something unfamiliar, but I left with my usual honeycrisp apples, organic spinach, and zucchini. I left somewhat dejected, but I knew I would likely find a fun item at Tara Natural Foods; my favourite Kingston grocery store. If you live in Kingston (or the surrounding area) and haven't been to Tara's, I implore you to check it out. Even if you're not interested in organic/health foods, the store itself is absolutely gorgeous and the staff are fantastic. If that's not enough to convince you they often offer samples of their product! Just as expected I found an enticing item to try hiding beneath the bulk honey:
Ginger Syrup! Initially I had no clue how I would even use this bottle of gingery goodness, but I was immediately sold by the smiling piece on ginger featured in the label (his name is Mr. Knobs)! After reading the label, I was impressed by the number of ingredients (two; organic cane sugar and organic ginger), certifications listed (organic, non-GMO), and delicious sounding serving suggestions. The Ginger People suggest that the syrup can be used as 'an alternative to pancake syrup' on dishes such as pancakes and oatmeal, over ice cream, or in tea. Don't mind if I do!
Don't get me wrong; I love my maple syrup but sometimes I find it a bit too sweet. For the sake of trying the syrup out, I treated my housemate Jenn to pancakes last Sunday morning. We used this recipe, but added crystallized ginger and raspberries to the mix. Deeeeelish! I also tried adding the syrup to tea (I prefer unsweetened tea but it was still nice), and dreamt up this dish:
Coconut Ginger Quinoa
Adapted from Healthy Tipping Point
Yield: 4 c.
Prep time: 5 minutes
Cook time: 30 minutes
Ingredients
1 c. dry quinoa
1 1/4 c. water
1/2 c. diced sweet onion
1 tbsp fresh grated ginger
1 clove grated fresh garlic
2 tbsp of ginger syrup (or brown rice syrup + ginger powder)
1 tbsp coconut oil
1/3 c. almonds, slivered or chopped
1/3 c. unsweetened coconut flakes
a few dashes of cinnamon
pinch of salt
Instructions
Combine the quinoa, water,ginger, garlic, and onion in a rice cooker or sauce pot and cook until water is absorbed.
Transfer quinoa to bowl and add in almonds, coconut, ginger syrup, coconut oil, cinnamon, and salt. Stir until combined.
I give The Ginger People's Ginger Syrup two vegan thumbs up! Now that you've gotten glimpse into some of my favourite ginger-infused eats this week, here are some other highlights for the purpose of What-I-Am Wednesdays. Thanks to Jenn for hosting!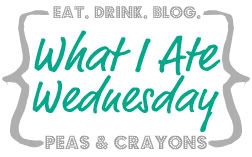 I participated in the Run or Dye even here in Kingston! The weather was horrendous and the route was hella hilly, but I still had a blast (and got very dirty).
Father was driving through Kingston yet again this past weekend and agreed to take me and the bros out for dinner; I was really surprised when Mom stepped out of the car as well! She also came bearing more bell peppers, and a leaves candle. We enjoyed a lovely dinner at Sima Sushi; I had the pink dragon rolls, a seaweed salad, and tea.
Jenn, Jess and I crossed off a bucket list item; Trivia Night! We had a lot of fun, and are planning to go again despite the fact that our scores were nothing to get excited over; the Denzel Washington round really stumped us

Fill in the blank: I like to douse my pancakes/waffles/breakfast in ____.

Thanks so much for reading! Leave me a comment, or follow me on, Facebook, Twitter, Pinterest, Google+, and Instagram; I'd love to connect with you!