I felt an empty space all day yesterday; it was the first day in 30 days without a new post on hello, veggy! Like I said on Monday blogging everyday is definitely not realistic considering all my other life commitments, but it is a passion of mine and for that reason I'm making as much room as possible for it. I hope you'll stick with me!

Before last weekend fades into an abyss, I wanted to immortalize the awesome-ness that it was as part of What I Am Was Wednesday Last Weekend (thanks to Jenn for hosting!). I volunteered with my school at the Ontario Universities Fair, which meant a free bus ride to Toronto! I was lucky to stay the weekend to catch up with friends and family, as well as to join some Toronto bloggers for a get-together at Grasslands.
There were eight of use in attendance (from left to right): Sarah from My (Mostly) Healthy Life, Sam from Better With Sprinkles, Chelsea from Chelsea's Healthy Kitchen, Davida from The Healthy Maven, Christine from Gotta Eat Green, Amy from The Little Honeybee, myself, and Gabby from The Veggie Nook. Although I had only met Amy before in 'real life' we got along like we had known each other for years! We had such a great time chatting, pouring over the menu, and joking about 'blogger mannerisms' such as this:
We got our waiter to take a picture of us taking pictures of our food! Classic

 Aside from the company, the restaurant itself was great too! Grasslands is what I describe as an 'upscale' vegan restaurant in Queen West. I checked out the menu and some reviews online before going, and it certainly lived up to my expectations!
Facilities
The restaurant is medium sized, but they were able to accommodate our group of eight with relative ease (we had a reservation, however). The decor and ambiance are very nice, the seating comfortable, and the atmosphere welcoming. We were seated right by the kitchen, which I didn't mind at all; it was neat seeing the staff preparing our meals! Score: 4/5
Food
The latte I had earlier had kept me relatively full so I opted for some lighter fare. Grasslands has a great menu that is able to cater to gluten-free, nut-free, and wheat-free diners, and as Sarah attested, omnivores and vegans alike!
I chose the soup of the day (Tomato Quinoa) and the Roasted Pumpkin Salad. Both were very tasty and surprisingly filling. Had I not been so full I would have chosen the Mustard Crusted Tempeh that some of the other girls ordered. The presentation was absolutely gorgeous and the included side dishes looked very tempting. I had a bit of food envy, but there's always next time! Score: 5/5
Service
Chris, our waiter was great. He let is take our time ordering, was willing to answer questions, and took pictures at our request. Although the food came a bit more slowly than I would have liked, it gave us ample time to talk amongst ourselves. Score: 4/5
Quality/Value
Grasslands is certainly on the pricier side, that being said, the quality is truly outstanding. Everything tasted very fresh, the ingredients were seasonal, and the presentation of the dishes was beautiful. The portions were a good size; neither excessive nor scant. Just keep in mind if you are going with groups of eight or more that an 18% gratuity will be added to your meal! Score: 4/5
Total Score: 17/20
The rest of my weekend was spent in good company (and with good food) as well. I met up with my best friends Maria and Leanna for a St. Lawrence Market adventure on Saturday.
We perused the market coming away with honeycrisp apples, pickles on a stick, tofu from Yin Yang Soy Food (the BEST EVER!), and a strange looking fruit. I'm told it's called an Ontario Blowfish Fruit.
Maria and I broke off afterwards for a belated birthday lunch at none other than Fresh! Gilmore Girls, productive schoolwork, and errand running with Mom also ensued. Best weekend ever? I think so!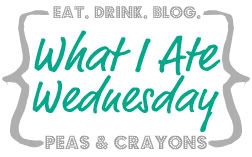 Thanks so much for reading! Leave me a comment, or follow me on, Facebook, Twitter, Pinterest, Google+, and Instagram; I'd love to connect with you!