Pet Therapy and Secret Ingredient Oatmeal [WIAW]
On Sunday, the inevitable finally came to be…
I officially became a cat lady. I'm the type of girl who loves curling up on a Saturday night with a cup of tea and a book; all that was missing from classifying me as a spinster was the cat! A few months ago, I filled out an application to foster animals through the Kingston Humane Society. To be honest, I didn't really know what I was getting myself into, but I couldn't be happier with how it's been going so far.
The fostering program is really cool; it facilitates short-term placements for pets who need to take a break from the shelter for health reasons, before they can be considered for adoption. It takes a burden off the Humane Society, but also give the foster volunteers a chance to experience having a companion animal without the long-term commitment (I can't adopt at this point, because my Dad has allergies). They also set you up with all the supplies you need!
Having Libby around has been an absolute joy. Lately, I've been in the midst of mid-term season which only adds stress to the pot. I was feeling pretty overwhelmed, but as soon as Libby arrived I've noticed my stress dissipate. My roommates and brothers are loving having Libby around too; we literally just sit around and watch her play. She is terrified of mirrors and loves anything dangly. She loves belly rubs and sitting on laptops. I'm going to be sad when she has to go back to the shelter, but I'm hopeful that she will find a forever home where someone will love her as much as I do! I could talk about Libby all day, but being a Wednesday I'll move on to more delicious topics. Thanks to Jenn for hosting!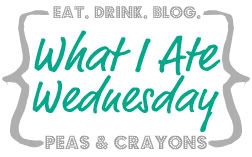 The colder weather has made oatmeal a daily requirement. There's nothing like a big steamy bowl of oats; especially after a chilly morning run. I've found a great way to amp up the volume of my morning breakfast with a special secret ingredient.
Yes, that is cauliflower; orange cauliflower to be exact (though I expect the colour doesn't matter much). I've experimented with adding produce to oatmeal for a while now; shredded apples work great, as do finely sliced banana. Amy intrigued my appetite for vegetable laden oats with her take on zeggs; since I don't eat eggs, I simply omitted them and was quite happy with the result! Next on my list of veggies to add to oatmeal was cauliflower, inspired by recipes for so-called "cauliflower rice". With the right toppings (and natural sweeteners if you like), the vegetables becomes disguised, leaving you with a happy belly full of oats and an extra dose of veg!
Secret Ingredient Oatmeal
Serves: 1
Prep time: 2 minutes
Cook time: 5-10 minutes
Ingredients
1/3 c. rolled oats (GF if required)
1/2 c. vegetable, grated (zucchini or cauliflower have worked for me)
1 c. water or non-dairy milk
1 tbsp. ground flax seeds
1/2 banana, diced very small
1 tsp. cinnamon
optional toppings: nuts, nut butters, additional fruit, etc.
Instructions
Choose your desired vegetable and grate very finely. Zucchini is a 'less vegetable-y' option, but I have had success with cauliflower as well!
Combine all ingredients in a small pot and simmer until liquid is absorbed.
Top with desired toppings and dig in!
If you're a bit uncertain about this recipe, start by adding a bit of zucchini to see if it's palatable. If you find out you like it (and I hope you do), slowly increase the amount as desired; you may even find you enjoy lost of veggies in your oats! If you're using cauliflower, add a bit more water and be sure to grate it very finely; it will soften up and hide within the oats best that way. As for toppings, put on whatever your heart desires! I like to stir in some frozen berries as the oats are cooking, and top it with a few dollops of nut butter!
In other culinary successes this week, I whipped up Kathy's Pumpkin Pistachio Kale Fried Rice Bowl for my brothers and housemate Jenn. The picture I snapped is not worth sharing, but we can all attest that the recipe is a definite keeper!
On a final (and very exciting) note, my recipe for Pumpkin Chai Loaf is featured in the Vegan Cuts Fall Harvest ebook (on lucky page 13)! It is packed with fall recipes, tips, and includes some valuable coupons; you can click here to download it for free.
Fill in the blank: I like to put ____ in my oatmeal.
Don't forget to enter for you chance to win a Booda Butter Gift set; contest ends Sunday at midnight!
I submitted this recipe to Strange but Good!
 Thanks so much for reading! Leave me a comment, or follow me on, Facebook, Twitter, Pinterest, and Instagram; I'd love to connect with you!