Banana Cornbread
What I've come to learn since starting hello, veggy is that no matter what you do, adding new fruits or vegetables to any old recipe makes it ten times better. This was especially evidence when I added cauliflower and zucchini to my oatmeal, and pumpkin to my favourite cornbread. Next. Level.
When I have extra bananas on hand, they get used one of two ways: I freeze them for banana soft serve, or mash them up and bake them into something delicious. Since the weather hasn't exactly been conducive for frozen treats, I chose the latter. Of course I was also craving cornbread, so I married the two. They make a beautiful couple, don't you think?
Just to make this even more strange, I enjoyed a couple of pieces for breakfast slathered in various nut butters. Peanut butter will do this trick, but cashew is unreal. This recipe has no added sugars or oils, since to bananas add both moisture and sweetness. I added walnuts and chocolate chips because I was feeling sassy, but they are completely optional. Leaving them out makes this loaf nut-free, and substituting a gluten-free flour blend for the spelt makes it celiac-friendly. Cornbread for everyone!
Banana Cornbread
Yield: 1 loaf; 10-12 slices
Prep time: 10 minutes
Cook time: 30-35 minutes
Ingredients
1 c. cornmeal
1 c. spelt flour (or gluten-free flour blend)
2 tsp. baking soda
1 c. soymilk
3/4 c. mashed banana (2 medium ripe bananas)
1 tbsp. apple cider vinegar
optional mix ins: 1/3 c. chopped walnuts, 1/4 c. dairy free chocolate chips
Instructions
Preheat oven to 375 degrees. Prepare a loaf pan or muffin tin with cooking spray or oil. Set aside.
In a bowl, mix together dry ingredients.
Mash the bananas very well and add wet ingredients to dry. Stir until combined.
Stir in mix ins if desired.
Transfer batter to loaf pan; bake for 30-35 minutes or until set.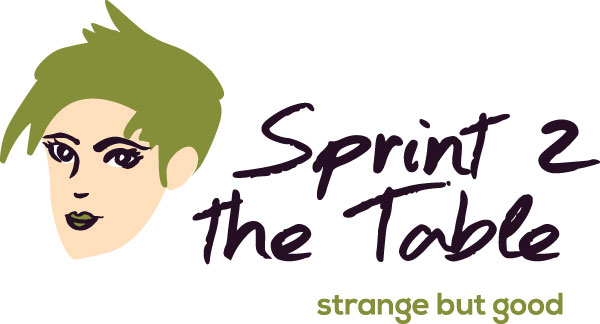 This recipe is also feature on Healthy Vegan Fridays; thanks, Carrie!
Fill in the blank: Bananas and ____ go great together; strange but good.
Thanks so much for reading! Leave me a comment, or follow me on, Facebook, Twitter, Pinterest, and Instagram; I'd love to connect with you!