The Naked Sprout Restaurant Review [WIAW]
I tried a bunch of new-to-me vegan restaurants in the summer, but didn't get around to writing a proper review for each of them. In July (yes, I'm a tad late), I joined my pal Kayla for a delicious dinner at The Naked Sprout; a vegan and gluten-free restaurant in Burlington, Ontario with both cooked and raw options. The company was great and the food was delicious. For the sake of it being WIAW, I dub this post What I Ate on a Saturday in July (WIAONSIJ)! Thanks to Jenn for hosting!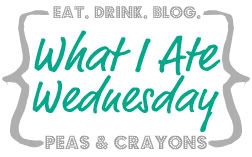 Facilities
"The Sprout" is located in a little strip mall alllllll the way out in Burlington. Despite it's almost rural location (I wouldn't dream trekking it out there on public transit), it is definitely worth the drive. The restaurant itself is very spacious and well decorated. The table presentation was also lovely; take a look at the cute napkin cuffs! I also loved how the kitchen is an 'open concept'; it gives me leave of mind knowing I can see my meal being prepared.
Score: 4/5
Service
Our server was none other than our good friend, Andrew, so I obviously have nothing but good things to say. He was attentive to our needs, answered our endless questions, and made some great menu recommendations.
Score: 5/5
Food
The Naked Sprout has a great menu. Even though my dining experience was months ago, I still remember the meal as nothing short of delicious. To begin, Kayla and I shared the Exotic Eggplant Caponata Flatbread. It was the perfect starter to a great meal; I loved the cashew chèvre and fresh herbs!
Next, we had our respective main courses. Although I wasn't too hungry, my eyes and stomach kept gravitating towards the Tantalizing Taco Salad. I loved how there was an option to order a half serving; it complimented the shared app and left just enough room for dessert! The flavours and textures of the salad were fantastic; I would order this again without hesitation!
Kayla opted for the D'ambrosio Burger and was generous enough to share a few bites with me. We both agreed on its deliciousness; especially the side of seasoned hot potatoes!
As our main course came to a close, we made a unanimous decision that dessert was a must. As recommended by Andrew, we chose the vegan cheesecake of the day; Chocolate Raspberry. It was unparalleled in taste, texture, and was very likely one of the best vegan desserts I have ever tasted! Kayla and I couldn't help but make inappropriate noises as we chowed down; good thing there wasn't anyone sitting directly beside us

Score: 5/5
Quality/Value
As with many vegan and gluten-free restaurants where there is an emphasis on organic and local foods, the cost is a bit higher than your average place. Based on the taste and overall dining experience, however, I can rationalize paying a bit more.
Score: 4/5
Total Score: 18/20
The next time you find yourself hungry in Burlington, I would recommend giving The Naked Sprout a try. I doubt you'll be disappointed

Thanks so much for reading! Leave me a comment, or follow me on, Facebook, Twitter, Pinterest, and Instagram; I'd love to connect with you!