Mint Chocolate Chip Vegan Overnight Oats
Top o' the day to ya! No, I don't normally speak like this, I'm just trying to get into the Irish spirit

I've never felt many ties to celebrating St. Patrick's Day. I blame it on the fact that I don't enjoy beer, nor do I have an ounce of Irish blood in me. What I do get excited about, however, is green food. Kale, zucchini, broccoli, basil, mint chocolate chip ice cream; you name it, I'll devour it.
I'll eat green any time of the day. I credit Angela for helping me overcome this fear with the prospect trying Green Monsters for breakfast. Still, I do prefer natural food colouring, which I was able to do with the help of spirulina! Don't let the name of this recipe deceive you; while it may sound like dessert, it totally qualifies as a healthy vegan breakfast. Chia seeds add protein and healthy fats, the oats give you whole-grain staying power, and the liquid sweetener is totally optional (the banana and chocolate were enough for my taste buds). The spirulina only serves as colouring; don't worry if you have none on hand.
Mint Chocolate Chip Vegan Overnight Oats
Prep Time: 2 minutes
Keywords: no bake breakfast snack gluten-free vegan vegetarian wheat-free banana mint oatmeal spirulina
Ingredients (1 serving)
1/2 c. rolled oats (certified gluten-free if required)
1 c. almond milk
1/2. banana, diced
1 tsp. liquid sweetener (optional)
2 tsp. chia seeds
1/4 tsp. spirulina (or green food colouring)
1/2 tsp. vanilla extract
1/8 tsp. peppermint extract
1 tbsp. chocolate chips
Instructions
Combine all the ingredients in a mason jar or tupperware container.
Mix thoroughly and let sit in the fridge overnight (or at least 2 hours).
Adjust extracts to taste and enjoy!
I'll be sharing this recipe with the Queen of Green dishes, for her St. Patrick's Day Green Food Link-up and for a very green Healthy Vegan Fridays tomorrow! Before you run off to make yourself some delicious green goo for breakfast tomorrow, be sure to check below to see if you won the Passport to Prana giveaway!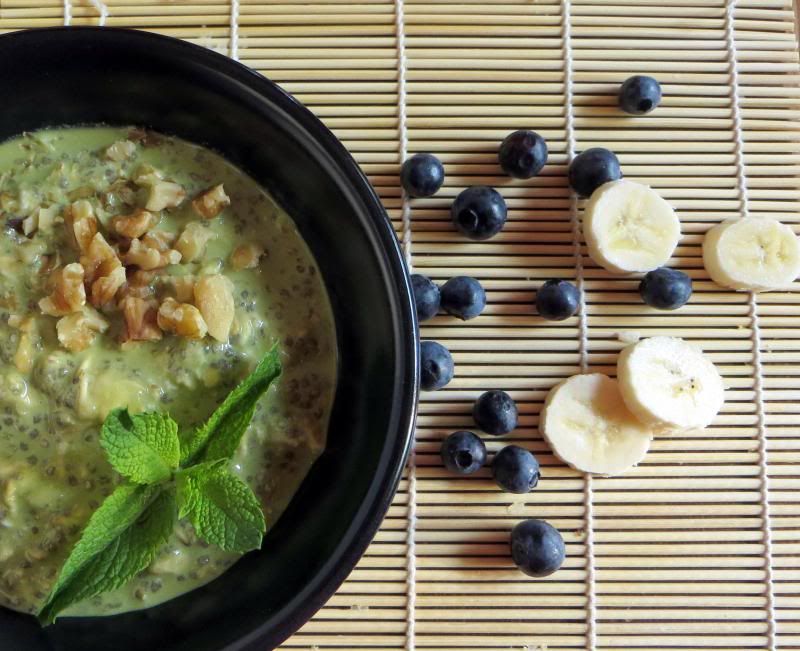 Questions of the Day: What's your favourite green food/St. Patty's Day tradition?
Thanks so much for reading! Leave me a comment, or follow me on, Facebook, Twitter, Pinterest, Bloglovin, and Instagram; I'd love to connect with you!