Welcome back to Monday; I hope you had as great a weekend as I did! I spent most of Saturday grocery shopping with my mom, then went to a yoga class, and read a book for a while in a charming café. On Sunday I ran the Beaches 10K "training run" in the east end of the city. Unfortunately, with my parents being away this weekend, my options for transportation there were streetcar (notoriously unreliable on Sundays) or bike; I picked the latter! It was a mere 20K bike ride each way but I powered through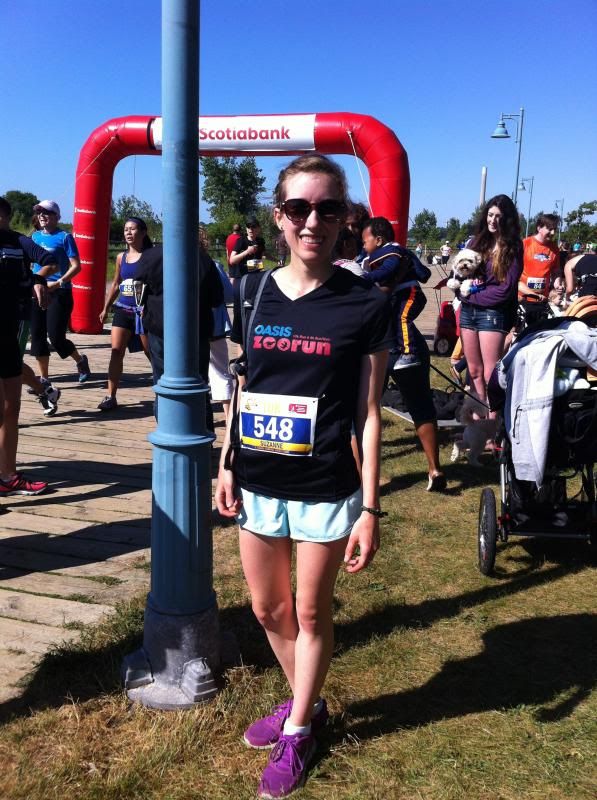 My time was 51 minutes; not too shabby for heading into the wind half the time. I got a random woman to take of picture of me in front of the finish line as per my tradition. The weather was gorgeous and the scenery beautiful; I really enjoyed myself. I also liked how they gave you options for your "race souvenir". Instead of adding to my drawer of race shirts, I got a cool key chain!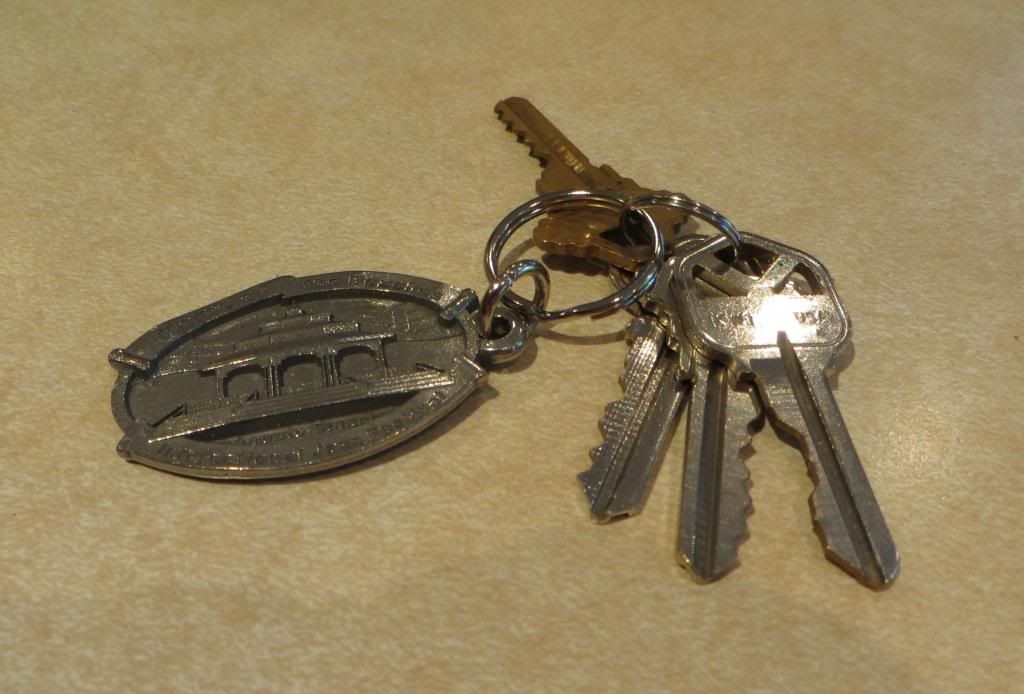 After the race I headed to a raw vegan restaurant I had wanted to try. My eyes were definitely bigger than my stomach so I saved half my meal for dinner. I'll be posting a review of this spot in the very near future, but until then here is a sneak peek of my meal:
Pack your bags because today's recipe is going to take you, or at least your taste buds, on adventure! With exotic Indian spices and sweet mango, you just may think you've landed in India. Except if you already live in India, in which case you've saved yourself a serious case of jet lag.
This simple and delicious chickpea salad has warming Indian spices, crunchy walnuts, and crispy veggies; your palate will never be bored. I enjoyed this mixture with organic baby spinach stuffed in a sundried tomato rawrap from Live Food Bar here in Toronto, although you could use any wrap you fancy (whole wheat, rice, or even collard leaves)! If you're more of a fork and knife diner, use it as a salad topper or eat it alone as a side dish. It's really up to you!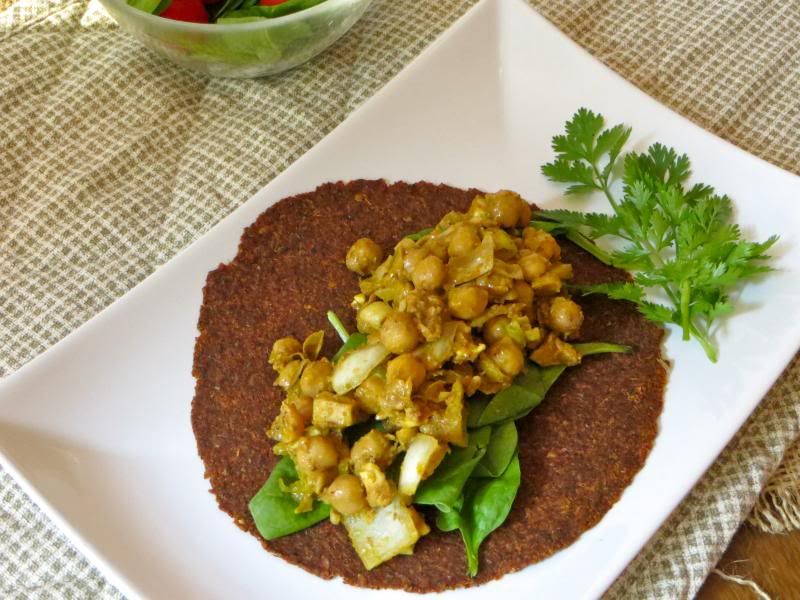 Curried Mango Chickpea Salad
Yield: Approx 3 cups
Prep time: 15 minutes
Ingredients
1/2 c. sweet onion, chopped finely
3 green onions, chopped finely
1 15oz. can chickpeas, drained and rinsed well
1 mango, pit removed and chopped finely
1/4 c. walnuts, chopped
1 tsp coriander (or 2 tbsp. fresh cilantro)
3 tbsp. plain soy yogurt OR veganaise
1/2-1 tbsp curry powder, to taste
1/2-1 tbsp garam masala, to taste
Instructions
Drain the chickpeas and rinse well. Place in a medium sized mixing bowl and smash roughly with the back of a fork. Smashing the beans is optional, but adds a great texture.
Chop vegetables, mango, herbs, and nuts, and add to the bowl. Stir to mix contents.
Add yogurt/veganaise and spices gradually until desired taste is achieved.
Store covered in the fridge for up to 5 days. Serve in a sandwich, a top a salad, or as a side dish.
Note: If you have the time and muscle strength to do so, I would recommend mashing about 70 percent of the chickpeas before mixing together the ingredients. The mashed chickpeas add a nice texture and will hold together much better; the less that falls out of your wrap the better! Also note that this salad tastes best after it 'marinates'; don't be tempted to over-season as the flavours come out more prominently on day two.
Enjoy your Monday, and I will see you back on Wednesday for a review of one of my favourite restaurants in Toronto!
Question of the Day: What did you do this weekend?
Thanks so much for reading! Leave me a comment, follow me on, Facebook, Twitter, Pinterest, Google+, and Instagram; I'd love to connect with you!