I really took it upon myself this summer to check out some new vegan-friendly restaurants in my hometown. I already had a few favourites (namely, Fresh) but I was really feeling the need to branch out. Last month I discovered Live Food Bar and have been wanting to go back ever since! Live was founded in 2002 and provides a 95% organic and 100% vegan and gluten-free dining experience. In addition to their sit-down restaurant, they also have a line of food products called Live Organic Raw (sold at various locations in Ontario), and a new storefront cafe/take-out location, Live Market in Liberty Village.
My pal Christianne and I ventured en bicyclette to Live's sit-down restaurant at Spadina and Dupont. Not being accustomed to biking on a busy road, Christianne was a bit nervous but she toughed it out; I see a bright city-cycling career in her future

Facilities
Above is a picture of the indoor dining area at Live; it was bright and cheerfully decorated. They have a counter in the back for easy take-away, as well as a shelf stocked with their own line of prepared food items. I can also report that their washrooms are clean, well maintained, and dare I say inspirational (they have some fun quotes painted on the walls).
Since it was an absolutely gorgeous day, Christianne and I sat out back on the patio. Just about every table had a huge umbrella and comfortable cushions on the chairs. It was a lovely atmosphere for a lovely meal.
Score: 5/5
Service
The service at Live was excellent. It was friendly, prompt, and not at all overbearing (no excessive water-filling; one of my pet peeves!). Out waiter did an excellent job at answering our questions and very helpfully helped to guide our order.
Score: 5/5 +1 (extra point awarded for outstanding customer relations/service; scroll down to read why!)
Food
Here's the part we all came for! Christanne and I shared two main dishes and a dessert. The portion sizes gave us that perfect "satisfied but not over-stuffed" feeling, the flavours were wonderful, and the presentation was lovely! To start we shared the Big Bowl with Dill Tahini dressing. It came with sunflower hummus, which was new to me and very tasty!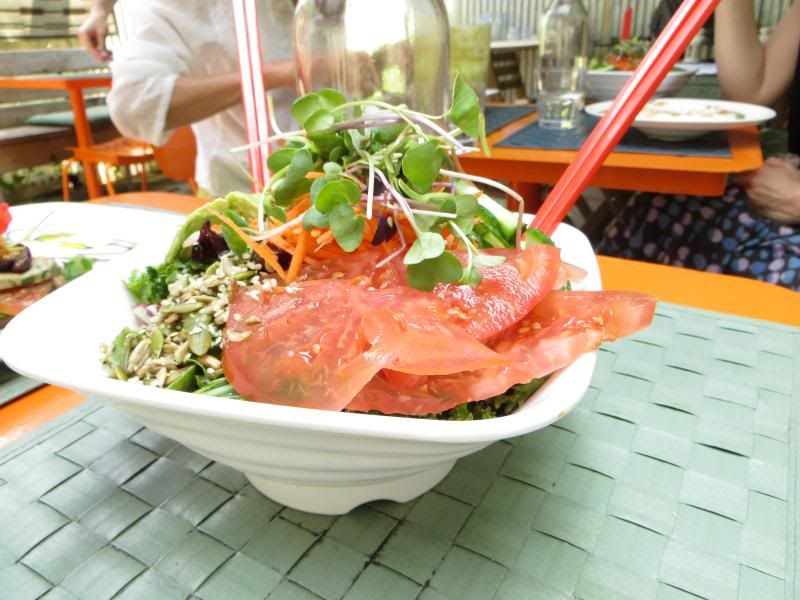 As our main dish, we split the Raw Pizza. It has a really delicious dehydrated sweet potato and walnut crust, vegan pesto, and two types of nut cheeze. It was topped with various garnishes and an edible flower, which I ate!
Of course, we couldn't leave without trying dessert. The reason I had initially wanted to try Live was a raw Tiramisu they had advertised via Twitter. Sadly, they were out of the Tiramisu that day (this story has a happy ending though; scroll down!) so we opted for the Strawberry Cheesecake instead. The picture doesn't really do it justice, but it was top notch!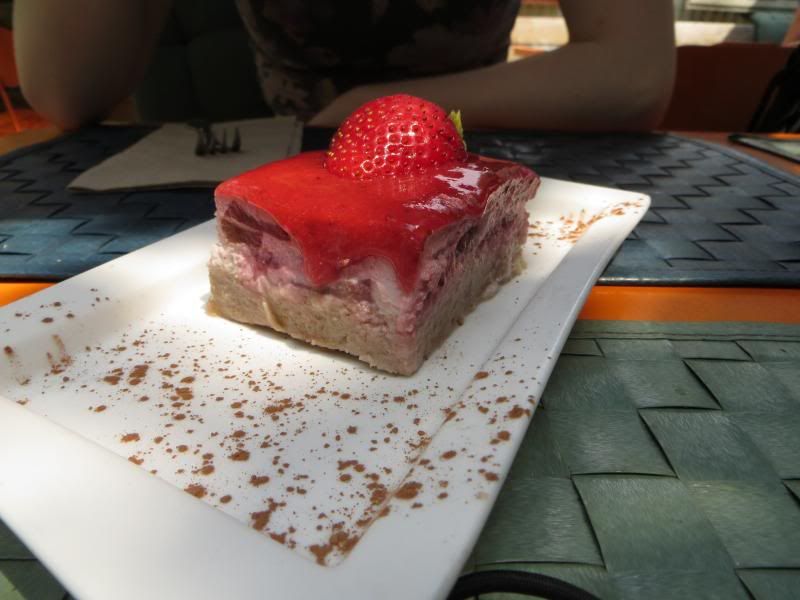 Quality/Value
I have really been gaining an appreciation of local and organically grown food, and I understand that it requires the price of dishes to be on the pricier side. Since Live promises that 95% of their food is organic, I can rationalize paying a bit more. I also appreciate their commitment to using biodegradable take-takeout containers, which I know cost more money. For a university student on-a-budget like myself, Live is certainly an indulgence when it comes to price but it is well worth it!
Score: 5/5
Total score: 21/20
Yes you're reading that correctly; Live scored more than 100% in my books! The reason for the over-the-top score is the over-the-top customer service I received. After my Tiramisu disappointment, I tweeted to Live saying I would be back to try it some other time:
@LiveOrganicRaw lunch was AMAZING! Too bad you were out of tiramisu #vegan #restaurantstoronto

— Suzanne (@helloveggy) July 8, 2013
I promptly got a reply from Tara, who invited me to come by for a Tiramisu on the house! You bet I took her up on that offer! Since the Liberty Village location is closer to me, I decided to check it out. Luckily they had the Tiramisu in stock (which was delicious, might I add), as well as a treasure trove of other goodies. I picked up some of their raw sundried tomato wraps to try, as well as a tub of coconut yogurt to try.
Disclaimer: This blog is a personal blog written and edited by me. I have not been compensated to provide opinion on products, services, websites and various other topics. This is not a sponsored post, nor have I been paid to review this restaurant. The opinions expressed here my own and are not influenced by any endorsement. The views and opinions expressed on this blog are purely my own. This blog does not contain any content which might present a conflict of interest.
Thanks so much for reading! Leave me a comment, follow me on, Facebook, Twitter, Pinterest, Google+, and Instagram; I'd love to connect with you!